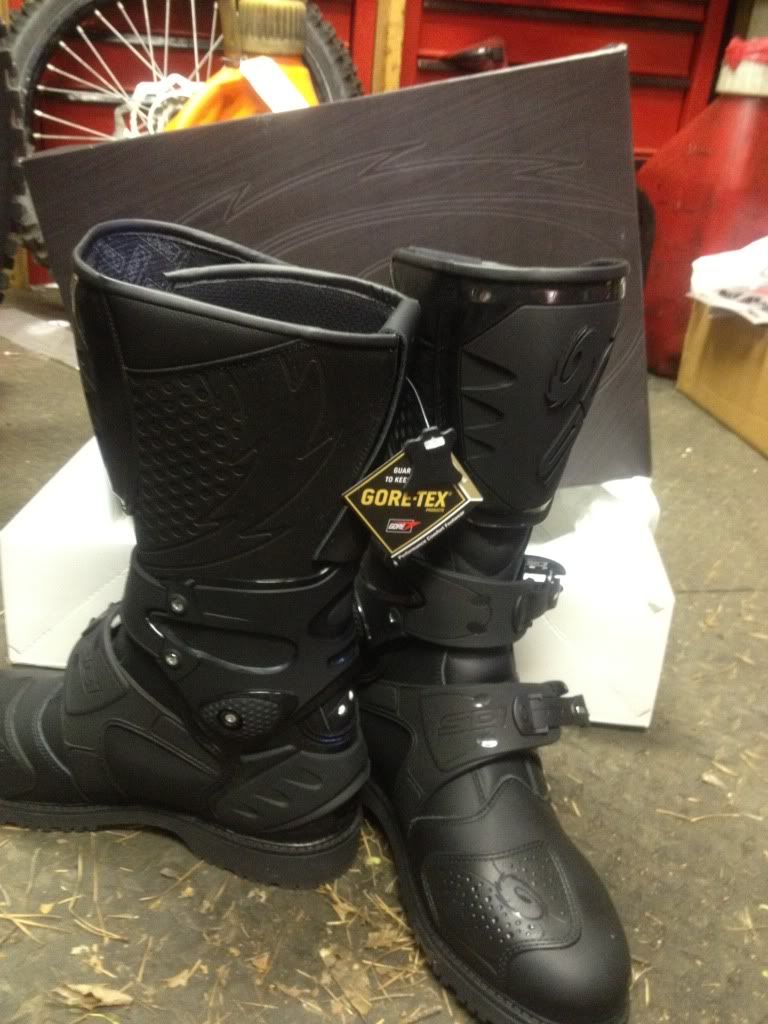 I bought a set of Sidi Gortex Adventure boots. They cost $650, yikes! But since I've been on Sidi's rider support program for over 10 years now a 40% discount makes them more affordable. I prefer the Sidi Crossfire boots for racing. When I broke my tibia/fibia in 2007 I was amazed at how easy it was to get the boot off considering how painful it still was. Back to these Gortex boots, they fit looser which is good. Gortex is usually a compromise of do you want to keep out? Well Gortex will make you sweat so there's another moisture problem. Loose fitting gortex is neccesary to let your skin breath.
The perfect application for this boot is winter/cold weather riding when you want to keep your feet dry going through water. There's plenty of room for a sole air activated heater. The extra room inside the foot area is also great for the much needed air gap to keep warm. As many of you might know it's better to wear thinner socks as oppossed to thick socks which eat up all of your air space and make the boot tight. Obviously you must wear a pair of gortex pants so water does not come in from the top. I rode through a few stream this past winter and even got off the bike and walked in the water. No leaks. Kinda felt like waders. I even came home and sat at the edge of the fish pond with my feet dangling in the water. Still no leaks.
would I use these boots for racing? I prefer the Sidi Crossfires. However these boots are very comfortable for walking around when I'm dying to get my Crossfires off. The Gortex Adventure boots have a Sidi trademark ankle hinge and 2 lower buckles. Up top they're held closed by a velcro flap. Plenty of room for knee braces. While these comfort hinges and buckles remind you of the Crossfires the overall feel is that of a traditional moto boot from years ago. If you're a winter rider and want warm, comfy, and dry feet these are a must. If you do long trail rides and want to keep your feet dry just put on a set of gortex pants that go outside the boot and you will be very happy as long as it does not hurt your wallet.